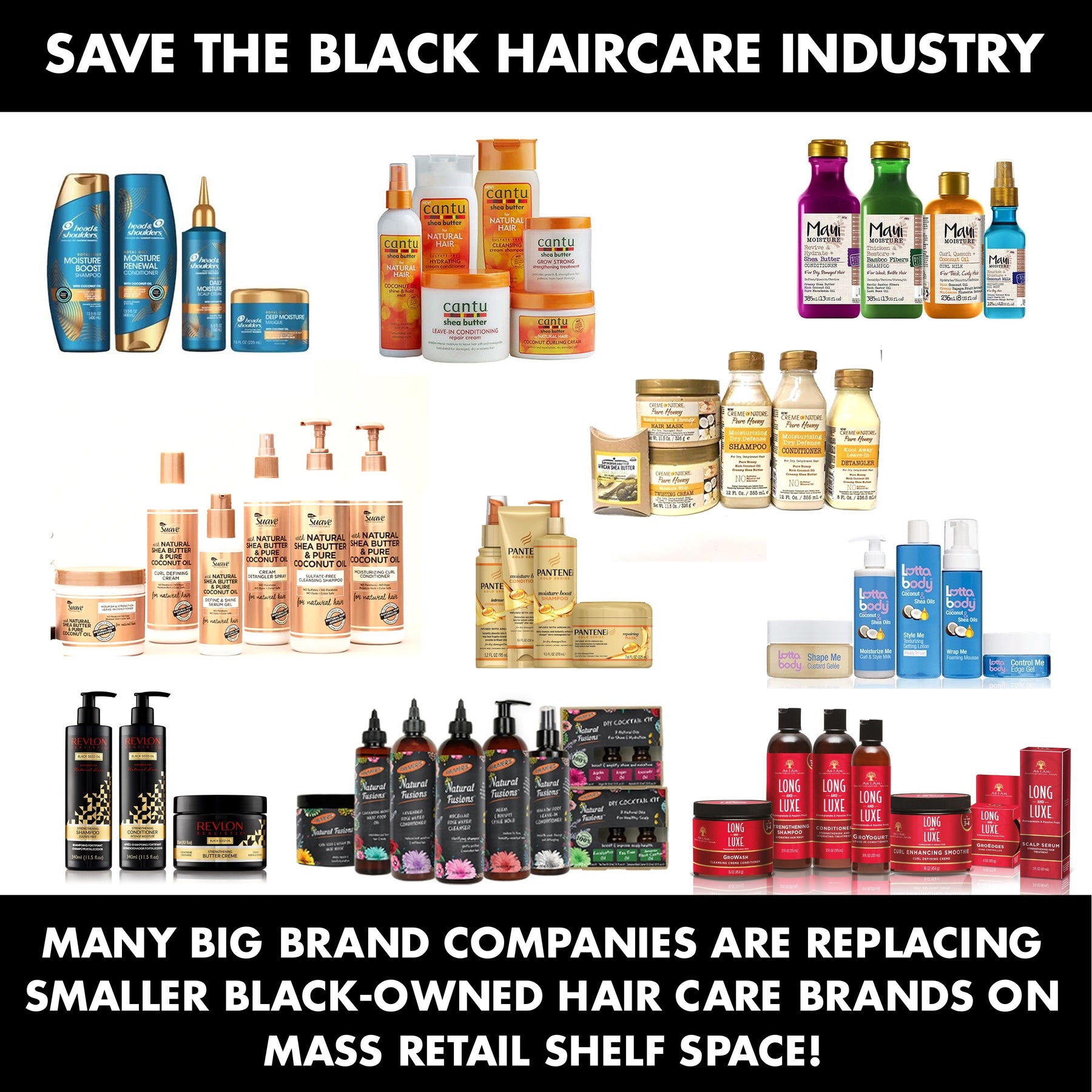 Save the Black Hair Care Industry!
After Listening to Pamela Booker, CEO of Koils by Nature, sharing valuable education to her social media followers/customers about the importance of supporting Black-Owned Hair Care brands, in regards to the current/increasing infiltration in the Natural Hair Industry, led me to write this article.
There was a time when hair care products that were catered to multi-textured hair were mainly hand-manufactured by a limited amount of Black-owned Companies & sold exclusively at local vendor events and/or online. Fast Forward to 2019, there are Hundreds of Black-Owned Natural Hair Care companies that have shifted the Black Hair-care industry into the New Natural Hair Industry. Many of these products are now sold at Mass Retail Channels, Amazon, local beauty supply stores and a plethora of online retailers. While this is great news, there are many disturbing factors that have come to play as a result of this now Booming industry!
African-American men and women spend billions of dollars on their hair, but a large portion of Black-Owned Hair care companies are missing out. This is mostly due to the incoming rise of Larger Brands/Subsidiaries infiltrating the industry and capitalizing off of this market. While studying the trend and use of emollient oils/butters that benefit multi-textured hair, these companies are now benefiting a lot off of the trailblazing decades of research, trials & audience from the smaller Black-owned hair companies. For example: A Majority of Smaller Black-Owned brands that once had shelf space at Big Box Retailers could no longer compete with the larger companies coming in and dominating the Multi-Textured Hair Space, leaving the smaller brands out in the cold and eventually removed from the store shelves.
These Larger Companies have used tactics such as recruiting well-known Natural Hair Influencers in the industry (who once worked with smaller black-owned brands), offering them exorbitant amounts of sponsorship which include and certainly not limited to flights to warm,sunny places, thousands of dollars in revenue and National TV exposure. This leaves smaller Black-Owned companies, that do not have such an extensive Marketing budget, out in the cold.
Some of these companies have also shifted their Marketing campaigns using (sustainable) ingredients, to the Natural Hair, Ingredient-Conscious Consumer such as "Coconut Oil", "Shea Butter", "Argan Oil", "Black Castor Oil". Ingredients that cater to multi-textured hair and originally offered by Smaller Black-Owned Hair Care companies. Unbeknownst to many Natural Hair consumers (who are not label privy), the ingredients that dominate most of these products are cheaper which allows these companies to charge $5-$6 per product. One Major Brand (who even hired "Black Hair Experts" have been found to use 'Sodium Hydroxide' aka Lye in their products and have even stated so on their labels. The same 'Sodium Hydroxide' that originally led Black Hair Care consumers to a Natural Hair Lifestyle.
Due to this incoming wave of Larger Brands infiltrating the Natural Hair care Industry solely for profit, we have compiled a list of solutions that may help our consumers determine how/where they spend their dollars.
1. Read the ingredients on your product labels. It is general knowledge in the manufacturing industry that the 1st 5 ingredients make up the bulk of a product and it's efficiency. Ingredients such as Parabens, Parfum (Fragrance- which is usually masked as a paraben), Isopropyl Alcohol and a host of other chemicals, carcinogens, toxins and skin irritants should be checked out at the Skin Deep Cosmetics database found here: https://www.ewg.org/skindeep/
2. Invest in your Community. There are now a ton of posts, articles linking Black-Owned Beauty brands. You may find a small list of Natural Hair Companies that we've compiled here: https://soultanicals.com/blogs/news/100-sista-owned-natural-hair-companies A quick google search will also find the CEO of a company. The Black Hair-care industry is a billion dollar industry, thanks to the African American consumer. When purchasing from Black-owned companies, you are also investing in their mareketing, sales, human resources which allows for more African-American job creation (most black-owned companies hire minority and diverse applicants) and increased visibility in the consumer world.
3. Support the smaller Black-Owned Hair Brands on Mass Retail shelf space such as The Mane Choice, Mielle Organics, Curls, Miss Jessies, Jane Carter, Alikay Naturals, Eden Bodyworks, Taliah Waajid, TGIN, Soultanicals, Oyin Handmade, Koils by Nature, Obia Naturals, The Doux, etc... Purchasing our products on the store shelves will allow our companies to expand & reclaim the Multi-textured hair space Nationwide.
4. Urge your favorite Influencers to review more black-owned hair products that are manufactured specifically for multi-textured hair using more natural ingredients.
 5. Contact the Purchasing Decision-Makers such as Store managers, Retail Buyers of Hair Care products to stock more of your favorite natural hair brands on their shelves. You may seek out the names of these buyers on the company websites or LinkedIn.
6. Support a local Black-owned Beauty Supply store
Many Black-Owned Retailers are informed about what works for the community that they cater too. They can best direct you on the concerns of multi-textured hair care which is a benefit and not just a selling point.
Hope this helps you in making a more informed decision about saving the Black Hair Care Industry! You, the consumer are a MAJOR component in this effort!
Signed,
Ayo Ogun
Natural Hair Enthusiast, Soul CEO/Mixtress, Ingredient Lova of nature at Soultanicals- An Afro Vegan (Black-Owned) Hair Care Company www.soultanicals.com