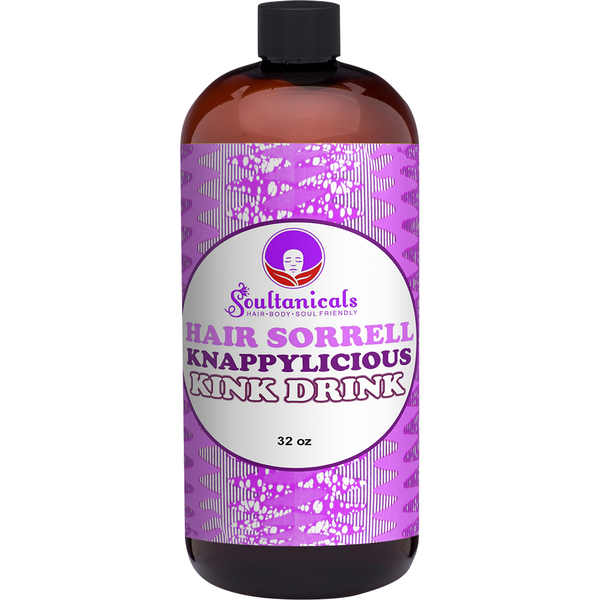 Hair Sorrell Knappylicious Kink Drink- 32 oz (SHIPS BY 11/28)
Sold out
Original price
$50.00
-
Original price
$50.00
Caribbean Sorrell will never be the same since we came up with this knap-petizing, moisturizing blend of hibiscus leaves, sweet ginger, agave nectar and 'superfruit' sea buckthorn- Giving you a fruity, nourishing tropical hair treat! Perfect for warm summer days, this hydrating blend is sure to transport you to exotic locations with every spritz. C(HAIRS)!
UPGRADE, your Hair Stash! Now, you can enjoy this seasonally with this refill-sized goodie!
Refreshing summer berries with juicy sweet undertones!
INSTRUCTIONS: Nourish dry, thirsty strands prior to roller setting, applying twists or braids, detangling or simply use to perk up a curly do! Enjoy shiny, nourished, frizz-free hair!
NOURISHING BOTANICAL INGREDIENTS: Lavender Water, Organic Aloe Juice, Herbal Infusion of Horsetail, Burdock, Chamomile, Hibiscus, Ginger, Irish Moss & Nettle, Flaxseed Gel, Babassu Oil, Castor Oil, Pro Vitamin B5, Sorbitol, Algae, Kelp, Jamaican Black Castor Oil, Agave Nectar, Natural, Fragrant & Essential Oil Blends, Grapefruit Seed Extract, Leuconostoc/Radish Root Ferment Filtrate, Citric Acid, Sea Buckthorne , an extra spritz of LOVE!
INCLUDES: Sprayer top for 8 oz refills!