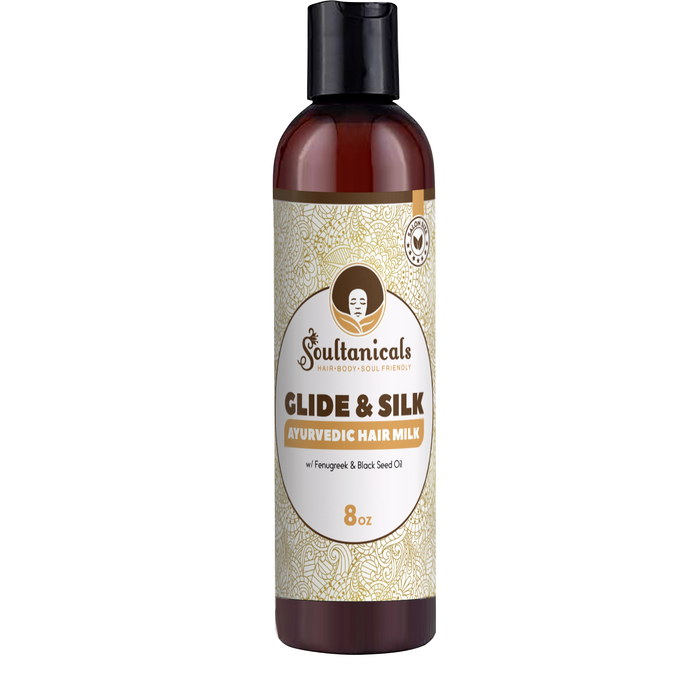 Healthy, nourishing and naturally quenching, this ayurvedic vegan leave-in is a flourishing, conditioning experience!
-Fenugreek stimulates blood flow to the scalp, nourishes the hair follicles to promote faster and healthier new growth.
-Black Seed Oil's antibacterial properties protects the hair and scalp while also locking in moisture in the hair shaft.
-The active compounds in Triphala repairs damaged hair and increases hair volume.
The best part of this goodie is that there is no need to rinse out!
FOR ALL HAIR TEXTURES IN NEED OF RETAINING HEALTH & MOISTURE
INSTRUCTIONS: Apply a moderate amount to damp or dry hair, leave in and style as desired!
AYURVEDIC MOISTURE PENETRATING INGREDIENTS:
Distilled Water, Behentrimonium Methosulfate, Cetyl Alcohol, Cocoa Butter, Castor Oil, Extra Virgin Olive Oil, Sodium Stearoyl Lactylate, Triphala, Fenugreek, Licorice Root, Neem Powder, Stearamidopropyl Dimethylamine, Pro Vitamin B5, Guar Gum, Black Seed Oil, Chamomile, Cumin, Yeast Amino Acid (Vegan Silk), Vegetable Glycerin, Phenoxyethanol, Pthalate-Free Fragrance