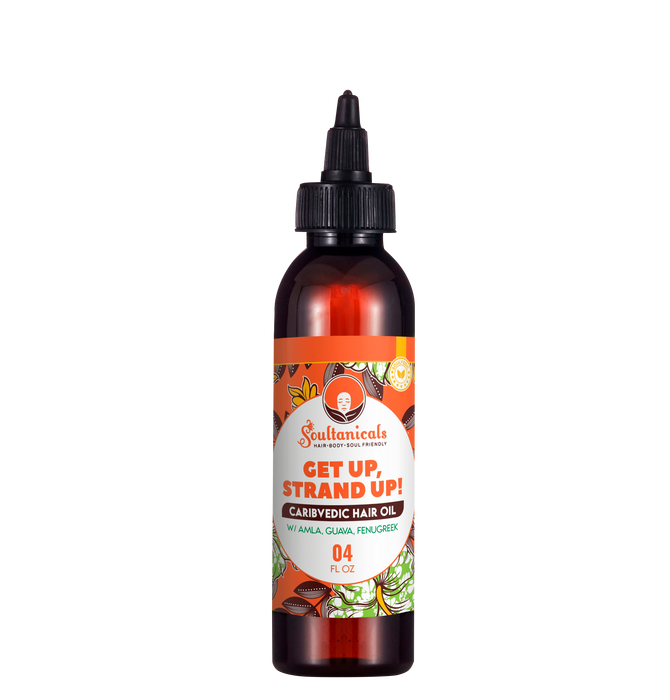 In the Caribbean, the indigenous have used Nature's Pharmacy aka Bush Medicine to naturally heal ailments of all kinds. They utilized a rich mix of healing traditions and herb lore to treat hair, skin & body care issues.

Since Ancient times, Ayurvedic hair treatments utilizes natural hair ingredients that get to the root of the hairs—both the literal hair roots and the underlying metabolic processes that lead to the state of health of your hair.
This Caribbean-Ayurvedic Blend makes a strengthening strand-fortifying formula for the hair & scalp. We've combined both traditional hair remedies for optimal healthy hair results!

-Sesame Oil is rich in a number of the nutrients beneficial to the hair; also prevents and treat scalp dryness, flaking, and itching.
-Fenugreek stimulates blood flow to the scalp, nourishes the hair follicles to promote faster and healthier new growth.
-Guava leaves have analgesic, anti-inflammatory, antimicrobial, and antioxidant properties for maintaining scalp health. They also contain Vitamins B & C, which nourish the follicles and promotes rapid hair growth.
-Amla contains stimulating, essential fatty acids that penetrate into the follicles, making the hair softer, shinier and voluminous.
How To Use: Can be used as a Hot Oil Treatment, Prepoo, Scalp Treatment and Hair Sealant!
Ingredients- Sesame Oil, Extra Virgin Olive Oil, Flaxseed Oil, Amla, Brahmi, Bhringraj, Fenugreek, Neem, Hibiscus, Nettle, Moringa, Black Seed Oil, Guava fruit extract, Jamaican Dandelion root, Vitamin E, Pthalate-Free Fragrance
4 fl oz.