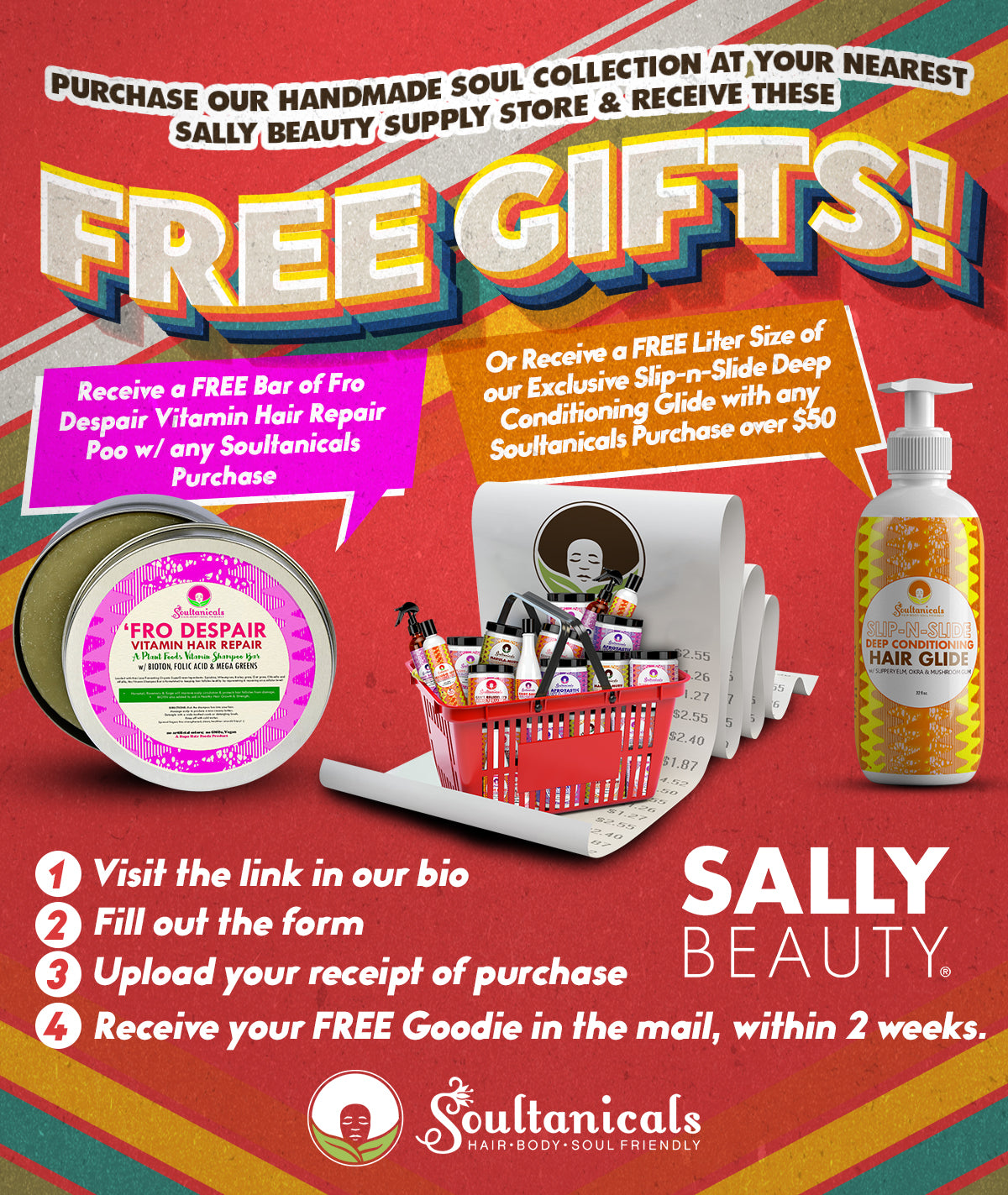 Free Gift w/ in-store purchase at a Sally Beauty Supply Store Near You!
Greetings Soulfam!
From Now until May 18, we are giving away FREE Products for those who purchase any of our products in a Sally Beauty Supply Store.
Rules:
1) Purchases must made In-Store Only!
2) You may only redeem 1 Gift per Customer!
Please submit your proof of purchases here: Sally Got Soul
RECEIVE A FREE BAR OF FRO DESPAIR VITAMIN HAIR REPAIR SHAMPOO BAR w/ any Soultanicals Purchase In-Store!
SUPA HAIR FOODS & NOURISHING INGREDIENTS: Saponified Oils of Coconut, Palm, Safflower, Vegetable Glycerin, Organic Olive Oi, Purified Water, Behentrimonium Methosulfate, Hydrogenated Palm (and) Palm Kernel Glycerides, Sodium Lactate, Sorbitol (moisturizer), Sorbitan oleate (emulsifier), Horsetail, Rosemary & Sage, Biotin, Spirulina, Wheatgrass, Barley Grass, Oat Grass, Chlorella and Alfalfa, Andiroba Seed Oil, Broccoli Seed Oil, MSM, Centrimonium Chloride, Brown Rice Protein, Folic Acid, phalate-free fragrance, an extra lather of soulistic flava & LOVE
RECEIVE A FREE SALON SIZE BOTTLE OF OUR EXCLUSIVE SLIP-N-SLIDE DEEP CONDITIONING GLIDE w/ any Soultanicals Purchase In-Store over $50.!
This Deep Conditioner has MAJOR SLIP & MOISTURE, contains NO Protein, NO Coconut Oil, NO Glycerin!
Ingredients: Distilled Water Botanically Infused with Slippery Elm, Oatstraw, Okra & Marshmallow Root, Organic Extra Virgin Olive Oil, Avocado Oil, Behentrimonium Methosulfate, Cetyl Alcohol, Cocoa Butter, Stearalkonium Chloride, Hemp Seed Milk, Pro-Vitamin B5, Guar Gum, Mushroom Gum, Vegetable Silk, Potassium Sorbate, Gluconolactone, Sorbic Acid, Phthalate-Free Fragrance, an extra slide of soulistic flava & LOVE!