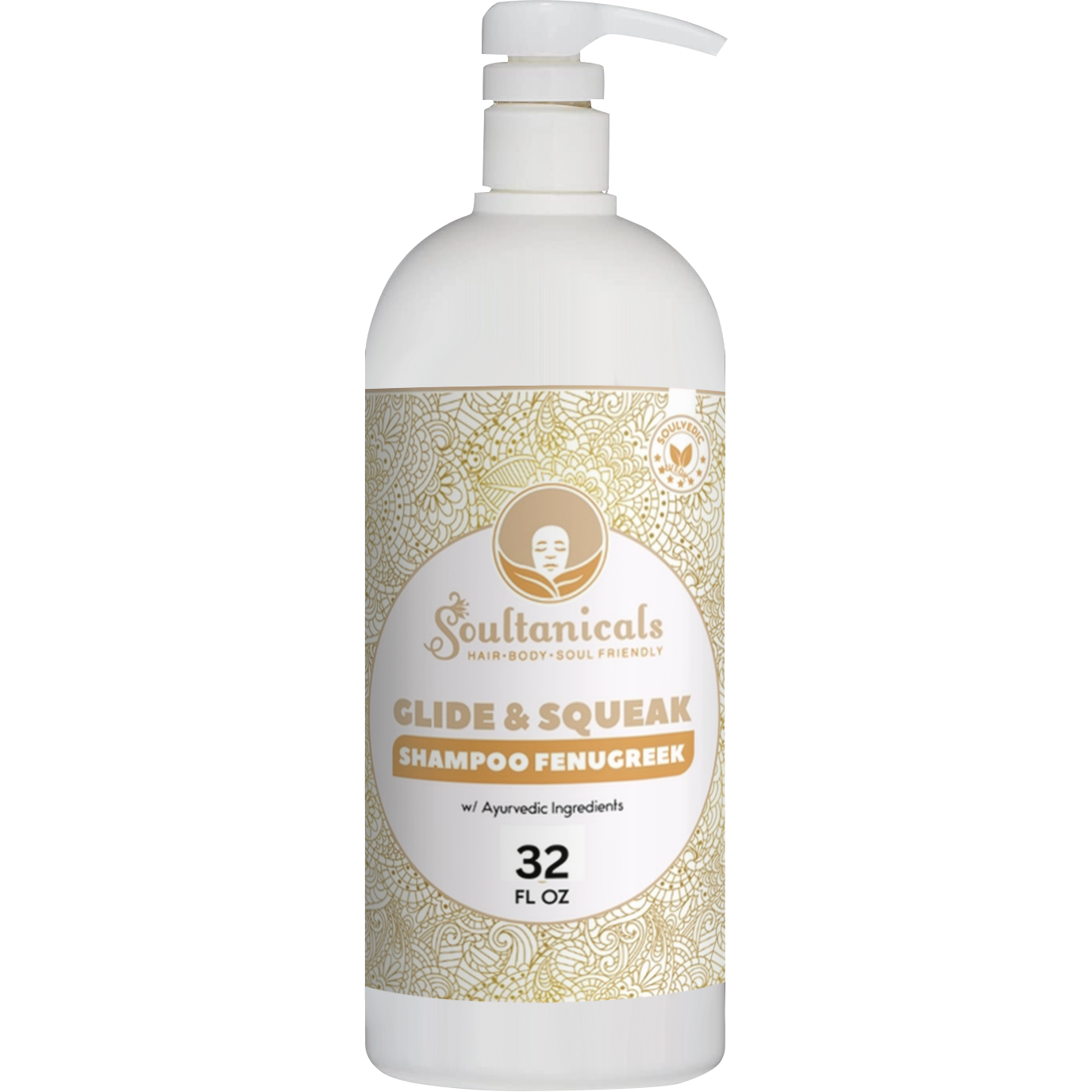 Glide & Go Squeak, Shampoo Fenugreek 32 oz- (SHIPS BY 11/28)
Sold out
Original price
$60.00
-
Original price
$60.00
What makes this Ayurvedic shampoo so strengthening?

With powerful herbs like Triphala, Fenugreek, Fennel, Licorice root and Neem, this shampoo is a must for overall hair & scalp health!
-Fenugreek stimulates blood flow to the scalp, nourishes the hair follicles to promote faster and healthier new growth.
-Licorice root opens pores and strengthens weakened hair follicles, which is often the cause of hair loss in the first place.
-The active compounds in Triphala repairs damaged hair and increases hair volume. Also reduces dandruff!
How do I use this product?
Massage a generous amount of Glide & Squeak gently onto wet hair and scalp. Work into rich lather. Rinse thoroughly. For best results, follow with Soultanicals Glide & Go Deep Conditioner.
AYURVEDIC HAIR NOURISHING INGREDIENTS:
Distilled Water, Sodium Lauroyl Lactylate, Potassium Cocoate, Triphala, Fenugreek, Licorice Root, Neem Powder, Pro Vitamin B5, Vitamin C, Black Seed Oil, Cumin, Pthalate- Free Fragrance, EcoCert Gluconodeltalactone, Vitamin E, Sodium Benzoate, an extra lather of soulistic flava & LOVE!
How is Ayurveda beneficial to Natural Hair Care?
The Ayurvedic approach is about treating natural tresses to be at its optimal best. Ayurvedic Hair Care strategies for optimizing hair health include strengthening, hair re/growth, luster and shine, aiding and soothing scalp issues, increasing blood circulation, thickening the hair, and so many more. Since Ancient times, Ayurvedic hair treatments utilizes natural hair ingredients that get to the root of the hairs—both the literal hair roots and the underlying metabolic processes that lead to the state of health of your hair.
100% Natural, pH Balanced, Sulfate-Free Shampoo